About Restoring Rebecca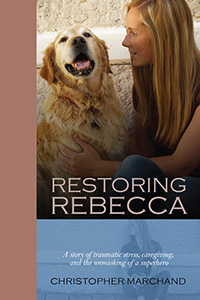 A compassionate listener and valued advice-giver, Rebecca is constantly sought out by her teenaged peers as a kind of counselor. But the standout high school junior is about to face pleas for help even she might be ill-equipped to handle: Her friend Zach reveals his abusive home life. Best friend Amy discloses her fantasies of suicide. Then violence rears its head, and Zach winds up in jail on charges of beating his brother nearly to death. And that's just for starters.
As Rebecca throws herself into her familiar superhero role, her caring begins to take an emotional toll, and she's forced to ask the most difficult question of her life: Is it time to stop caring? With the help of her dog and a wise veterinarian at the pet hospital where she volunteers, Rebecca comes face to face with radical new ideas that could change the way she cares and help keep her sanity intact.
Shedding new light on the little-known but important issue of compassion fatigue, Restoring Rebecca is written for people who love to care and those who would like to better understand them. It's a book that will challenge you to face your inner superhero and to fess up to your limitations as a caregiver.
Chris Marchand has accomplished the impossible with his ground-breaking book "Restoring Rebecca." He has taken the psychological components of compassion fatigue and transformed them into a thought-provoking piece of fiction. This book should be mandatory reading for every junior and senior high school student, their teachers and counselors.
Patricia Smith, Founder
Compassion Fatigue Awareness Project
Dr. Marchard has done a great service for all people in the helping professions. He has brought to our attention the epidemic of secondary traumatization and compassion fatigue within the professions. What is truly remarkable is that he draws the reader in through narrative, rather than proposition. The result is the reader avoids the peril of denial - 'this isn't happening to me', by sitting us in a front row seat as a talented and gifted helper is ambushed by her humanity. If you are a caregiver whether by profession or by avocation you need to read this book. If you are a supervisor of caregivers, you need to give away copies of this book.
Dr. Don Russell, Ed. D.
Russell Counselling and Consulting Services